_about
Artist and media theorist, based in Copenhagen. Received a doctoral degree in Art and Media Theory from University of Arts in Belgrade.
My theoretical research is focused on the problem of media analysis, visual reception and aesthetics of technology. I have been involved in the several international projects focused on the long-distance learning and media literacy.
Member of the curatorial initiative for the promotion of video art - ArtVideoExchange since 2008. I work as a Senior lecturer at Communications for Development department (ComDev), K3, Malmö University.

Apart from that: I'm a passionate fusion-cuisine-leisure-time-cook, a clumsy bicycle-rider, a big fan of European independent film production and of all Tom Waits' and Tuxedomoon albums.
_updates
Artificial Creativity online conference
15-07-2020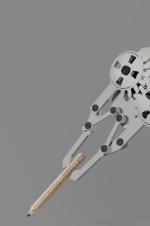 I am happy to announce that the online conference Artificial Creativity will take place on 19-20 November 2020. The conference is part of my project The Robot as A Technocultural Icon, Malmö University.
The conference aims to stir a discussion about the cultural, societal and ethical aspects of artworks featuring A.I. or robots engaged in creative production.
The keynote speakers are: Professor Joanna Zylinska (Goldsmiths University), Professor Andreas Broeckmann (Academy of Fine Arts, Leipzig), and Professor Mark Amerika (University of Colorado).
The online conference will feature a virtual exhibition supported by Mozilla's Hubs. Amongst other content, the exhibition will feature the latest works of the artist Justine Emard (France).
The discussion around the Artificial Creativity theme will continue in a special issue in Transformations, an open access peer-reviewed journal, in 2021.
The Artificial Creativity conference is free of charge for all participants. It is hosted by the research lab Medea, School of Arts and Communication, and the Data Society research programme – all at Malmö University, Sweden. The conference has received generous support from Riksbankens Jubileumsfond, Sweden.
_more_updates