_about
Artist and media theorist, based in Copenhagen. Received a doctoral degree in Art and Media Theory from University of Arts in Belgrade.
My theoretical research is focused on the problem of media analysis, visual reception and aesthetics of technology. I have been involved in the several international projects focused on the long-distance learning and media literacy.
Member of the curatorial initiative for the promotion of video art - ArtVideoExchange since 2008. I work as a Senior lecturer at Communications for Development department (ComDev), K3, Malmö University.

Apart from that: I'm a passionate fusion-cuisine-leisure-time-cook, a clumsy bicycle-rider, a big fan of European independent film production and of all Tom Waits' and Tuxedomoon albums.
_updates
The Uncanny Valley: Art, Robots, and Nature
05-02-2014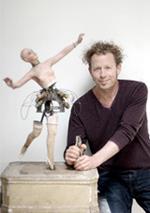 8.02 2014
Auditorium 22.0.11
University of Copenhagen Amager Campus, Building 22
Njalsgade 120, 2300 Copenhagen S
Ken Goldberg, professor of New Media at UC Berkeley, is invited by ROCA to give a lecture
The Uncanny Valley: Art, Robots, and Nature
at University of Copenhagen.
Ken Goldberg is interested in mortality and the boundary between what is alive and what is life-like.
The 'Uncanny Valley' is a phenomenon described by Masahiro Mori in 1970, where our comfort with machines undergoes a steep non-linearity as they approach this boundary.
Goldberg will present his own artworks exploring this boundary, including the Telegarden, the first teleoperated robot on the Internet, and the Tele-Actor, where a human agent supports telepresence as a surrogate for remote visitors.
Ken Goldberg is Craiglist Distinguished Professor of New Media at UC Berkeley. He is a pioneer in internet-based robotic telepresence and Cloud-Based Robotics/Automaton. Ken's artwork has been exhibited at Ars Electronica, ZKM, Centre Pompidou, ICC Biennale, The Kitchen, The Whitney Biennial, amongst others.
The lecture is organised by ROCA: Robot Culture and Aesthetics, a practice-based research project at the Department of Arts and Cultural Studies, University of Copenhagen. Read more:
ikk.ku.dk/roca
.
_more_updates