_about
Artist and media theorist, based in Copenhagen. Received a doctoral degree in Art and Media Theory from University of Arts in Belgrade.
My theoretical research is focused on the problem of media analysis, visual reception and aesthetics of technology. I have been involved in the several international projects focused on the long-distance learning and media literacy.
Member of the curatorial initiative for the promotion of video art - ArtVideoExchange since 2008. I work as a Senior lecturer at Communications for Development department (ComDev), K3, Malmö University.

Apart from that: I'm a passionate fusion-cuisine-leisure-time-cook, a clumsy bicycle-rider, a big fan of European independent film production and of all Tom Waits' and Tuxedomoon albums.
_updates
Come to the first ROCA screening!
24-09-2013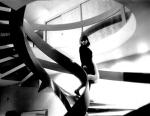 Stina Marie Hasse Jorgensen and I will organize the screening and facilitate the discussion about Jean-Luc Godard's film 'Alphaville' (1965). Other ROCA members will be present, as well as the students at the Faculty of Humanities, University in Copenhagen (KU).
The event takes place at Roland Bar, IKK, on 24.09 at 17:00, the entrance is free. Come and join us!
About ROCA initiative: Robot Culture and Aesthetics (ROCA) is led by prof. Gunhild Borggreen, IKK.
It unites cultural and aesthetic theories with practice-based insights in order to imagine, theorize, and create new types of human-technology interaction. Based in the humanities, the ROCA builds on cross-disciplinary alliances and will foster collaboration with experts in the field of robotics, computing and communications, but also with artists and activists, as well as private companies in the creative industries to address this question.
_more_updates